CPCng Design Team
(Last Updated: 04-March-2006)
eZ80F91 Prototype, 160mm x 100mm (Eurocard form factor)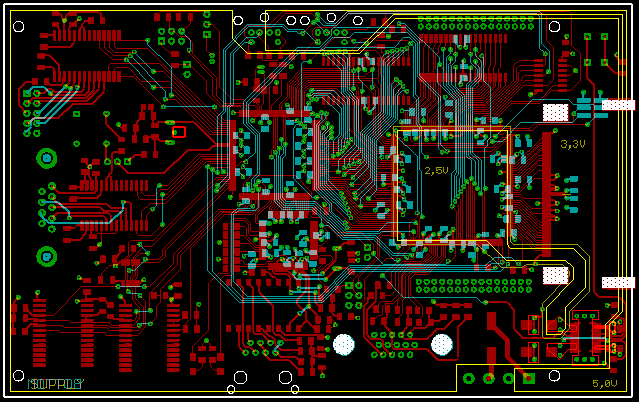 Specifications:
eZ80F91 Microprocessor
Xilinx Spartan-II FPGA
512 MiBytes Processor RAM
512 MiBytes Video RAM
PS2 Keyboard interface
PS2 Mouse interface
Mouse-compatible Serial Port #1
Modem-compatible Serial Port #2
CompactFlash interface for Program Storage
Ethernet interface (10/100-Base-T)
VGA Video output

04-MAR-2006, Added Composite Gerber
Pentalogix JobFile (viewable with ViewMate, see below).
Download CPCng_proto_rev_A.bin (849K) -- open with ViewMate.
Double-click colored layers from the toolbar to enable/disable them.
This file was created with ViewMaster, the full-version tool.

24-JUN-2004, New fix-up download and parts map.
Fixed all silkscreen component names
Generated PDF maps for part locations

09-JUN-2004, Added Spreadsheet of Parts List for download
Parts list is available for download now
(See below...)

04-APR-2004, Updated Schematic and Board PDFs
Same file names, new files.

02-FEB-2004, Final Revision: updated Gerbers, with slight touch-up to obvious errors:

Clock battery now has charging circuit (tested and verified by me on another eZ80F91 design).
The ridiculous 2-Pin header is removed from unused JTAG pin (??? why did I put that on ???).
PLL Power pins are now connected.
Loop Filter components are present, if you decide to utilize the on-chip PLL to multiply
a lower frequency (e.g. multiple of 1.8432_MHz).

Gerber Files are ready for manufacture, but the design was not thoroughly reviewed by anyone else...
So, at this point, you are hereby advised: Manufacture boards at your own risk!
Download the NEW full EAGLE project with Gerber Files, CPCng_proto_rev_A_FIXUP_24JUN2004.zip (788K)
Note: within this file is a ZIP file with the Gerbers. Edit the Read_Me.txt file for your own
contact (name, address, phone #), and re-Zip before submitting to a board manufacturing house.

Component Placement Maps:
Schematic and Board in Adobe PDF
Schematic and board were created with EAGLE from Cadsoft (http://www.cadsoftusa.com/)
Adobe Acrobat Reader v4.0 required:
(Please use Rotate Clockwise from the Acrobat View menu.)
Parts List (spreadsheet)
This is a raw export from EAGLE for CPCng_proto_Euroboard_A
PartsList-CPCng_proto_Euroboard_A.zip (13K)
- SXC file is StarOffice 6.0 Format.
- XLS file is Microsoft Excel Format.
Data Sheets
Browse and download from the Datasheets Directory.
Note: GIDE.zip contains Z80 Generic IDE design files (and PAL equations), which might be useful for reference.




Also visit my Personal Home Pages for many other interesting things!
Questions to beattidp@ieee.org.
This site hosted by aplus.net